Fall has arrived in Montana and is trying to leave us too soon. The weather continues to get colder, and our beautiful trees, which were so amazingly vibrant and colorful the past couple of weeks, are starting to lose their leaves. What better way to hold onto Autumn and bring some of her beauty inside, than these great Fall Craft Ideas for Kids.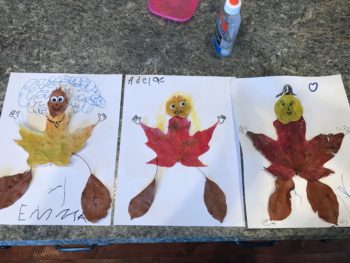 Like their mama, my girls love making crafts. Some of our favorite crafts are when we are able to involve items from nature. I especially love these crafts, because it means I don't have to spend money, ha, but seriously.
Leaf People
Last Fall my kids had so much fun making these adorable "Leaf People." We enjoyed being outside collecting all the beautiful fallen leaves from different trees. The girls got a kick out of making characters and names for the people they created.
While we collected way too many leaves for this project and I was finding them around the house for weeks (my kids are impressive with their ability to spread a mess), it was a fun, easy, cheap craft, that everyone enjoyed.
---
Leaf Wreaths
Another one of the Fall craft ideas for kids we did this year were Fall Leaf Wreaths. It was again a great opportunity to get outside and let them sift through the fallen leaves for the colors, shapes, and sizes of leaves they wanted to use for our craft. We really should have done this sooner since now most of the leaves are in their final stages and the colors are not as diverse, but they still turned out great and the kids had fun contributing to our Fall decor.
I bought cheap paper plates for crafts in bulk a couple of years ago, and I still have at least half of them left. I am always looking for ways to incorporate them, and they were perfect for our little Leaf Wreaths.
---