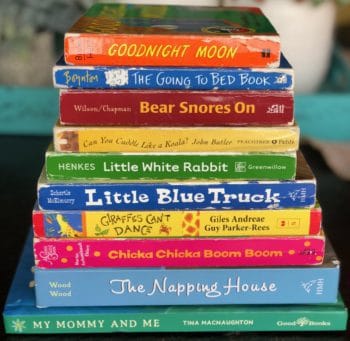 As we were getting ready for nap time today, I asked my 2-year-old to pick out a few books for us to read together. She came back with some of our usuals and one new book that was truly mind-numbing. Any parent who reads to their kids knows how many truly terrible kid's books are out there. 3 kids and hundreds of books later, I've finally figured out some of the best board books for kids and parents
Over the years we have accumulated an obscene amount of children's books. I genuinely have no idea where they all came from. I have purchased a few but at some point, they began to procreate. Regardless of the reason, our bookshelves are always full. I try and weed through them from time to time, but they still seem to be multiplying.
So to clarify, I have read hundreds of children's books and some I have read hundreds of times. I guess you could say I am a board book expert…. you'd be wrong, but you could certainly say it. As a matter of fact, I wrote a children's book a few years back. That's right, I'm a published author. Of course, I wrote and published the book myself and there is only one copy, which I gave to my nephew for his birthday. But I received more than one "good job" from my immediate family.
As a self-proclaimed board book expert, I am sharing some of our favorite board books for new parents in an effort to spare you the litany of nonsensical children's books. We have all judged a book by its cover and picked up a pretty little board book, only to stumble through the poorly written pages. No clever rhyme or sing-song rhythm to lull your little one to sleep. No storyline, endearing characters, or purpose what-so-ever.
Just some pretty pictures with random words thrown together to fill empty space. And while the children are not benefitting or even entertained by these lousy books; The parents are the real victims. Because we are the ones who have to read the same books over, and over, and over, and over, and over, and over again. And that is why I composed this list for new parents and not new babies.
I love reading to my kids. I enjoy doing voices, making noises, and the cadence of reading aloud. I love when my children jump in to finish a line because we have read the book so many times and when they get excited for story time. In a time of E-readers and audiobooks, I believe it is imperative for our children to hold books in their hands, turn the pages, and follow along with the story, assisting where they can. And when you are reading to little ones with fumbling curious fingers, board books are the way to go.
I know I am not alone in wanting my children to fall in love with reading. I love books and want them to as well. Last week, I was talking to a High School student who mentioned she didn't like to read. She was surprised and excited because she found a book she loved so much she finished it in under a week. I told her I think she may actually love reading and find herself to be an avid reader but just needs to find the right books. Imagine if she had come across an amazing book that spoke to her years earlier. Her love for reading and exposure to so many amazing pieces of literature would already have grown exponentially.
I have a feeling she is yet another victim of bad board books, which ruined her desire to pursue leisure reading beyond toddlerhood. Our children deserve better. (Ha, but seriously.)
So, below is a list of some of our favorite board books. Both child and parent approved.
The Best Board Books For Kids And Parents
1."GOODNIGHT MOON" by Margaret Wise Brown
There is a reason this is a classic. Its the perfect bedtime book. Let's say "goodnight" to everything and hit the hay. It kind of reminds me of my children's prayers, when they thank God for absolutely everyone they have ever known and everything they have ever done. Can't fault a grateful child.
2. "THE GOING TO BED BOOK" by Sandra Boynton
This is one of my kid's favorites. I have no idea why they are on a boat or why the exercise before going to bed, but it works.
3. "THE BEAR SNORES ON" by Karma Wilson
It's just cute. There is a bear. A lot of other critters arrive in his lair while he is hibernating and throw a party. When he wakes up he is sad because they had fun without him (every child's worse fear.) But don't fret, because the intruding critters agree to keep the party going.
---
4. "CAN YOU CUDDLE LIKE A KOALA?" by John Butler
Great little book for toddlers. They can act out all the little animal behaviors, from curling up like a squirrel to cuddling like a koala. And who doesn't love a few extra cuddles from your babies.
5. "LITTLE WHITE RABBIT" by Kevin Henkes
This book grew on me. At first, I thought it was kind of silly. Then I started over analyzing it and thinking maybe, just maybe, it held the secret to life (really need emojis to convey my feeling and I blame technology for my inability to relay tone.) But at the end of the day, the little rabbit is secure in the knowledge that he is loved. And isn't that the kind of peace we want for our children?
6. "LITTLE BLUE TRUCK" by Alice Schertle
This may top our list as my favorite. Its just so cute and it reads so well. The little blue truck is everyone's friend and a bully dump truck learns a lesson about the importance of friendship. There are actually follow up adventures for the Little Blue Truck in additional books, but this one is the best!
---
7. "GIRAFFES CAN'T DANCE" by Giles Andreae
This book was a surprise hit. Great rhythm, lots of animals, and a good little story.
8. "CHICK CHICKA BOOM BOOM" by John Archambault & Bill Martin, Jr
I hate to call this a classic because it was published in the 80's, but I can't really think of a better way to describe it. We all read this book as children and now we are reading it to our kids. Such a fun read and a great way to introduce the alphabet.
9. "THE NAPPING HOUSE" by Audrey and Don Wood
I have always loved this book. Some nights its a little longer than I would like, but the pictures are beautiful and kids love it.
---
10. "MY MOMMY AND ME" by Tina MacNaughton
Sweet book, and always love the opportunity to reinforce how special mommy and child relationships are.
Honorable Mention
Also on our board book list are "THANK YOU GOD FOR MOMMY" and "THANK YOU GOD FOR DADDY", by Amy Parker The pictures are precious and the story even more so.
I don't think you can have a "favorite" Board Book post without mentioning the "LLAMA LLAMA" series. We love these books by Anna Dewdney. She wrote and illustrated them and they are absolute perfection. Rhythmic, great pictures, sweet llama, short read. Everything you want from a board book.
That's all folks!