The best ever snow cream, brought to you by a Southern born Montanan?. I can say that, right? After nearly 10 years in Montana, a few record breaking winters, and having birthed all of my offspring here, this IS home now.
(Somewhere in Nowhere Arkansas my daddy's heart just broke a little?. Don't worry, he knows I'm still forever a daddy's girl?.)
Truthfully, Montana was home for me long before I ever arrived. God put this place on my heart, and it just took some living for me to finally arrive home.
But growing up in the South, snow was a rare and wonderful treat! The little town I grew up in literally shut down with the mere forecast of snow. School would be canceled the night before out of fear of flurries, and often we woke up to a day off but no snow accumulation. Talk about heartbreaking. Nothing zaps the joy from a child's eyes quicker than going to sleep with the hope of a snow day and waking up to dry ground?. No jumbled mess of miss-matched winter-like garments. No 4 pairs of wool socks slapped on your feet so you can wear your big brother's hunting boots in the snow. No ziplock bags duck-taped over dollar store knit gloves. And worst of all, no perfect snow day treat! No Snow Cream!?
I have seen this joy crushing realization in my own children's eyes this winter. Truth be told, I've seen it in my husband's eyes as well?. We LOVE the snow. When an Arkansas girl and a Texas Boy get hitched and move to Montana, we expect….dare I say, feel "entitled" to snow in the winter.
But this year has been unseasonably warm and snow-less. Like, it's really weird and quite disorienting. People are walking around confused, not sure what to do or how to feel. The bears are just as confused! We are all just existing in a state of lethargy trying to make sense of the madness.
Two days before Christmas, after struggling all season to find my Christmas Spirit, it began to snow. A Christmas Miracle!!! It wasn't a lot (still enough to close school in the South), but it WAS a White Christmas!
Then it started to rain one day, and melted all the snow. This time last year we had 3 feet of snow in our backyard. This year….brown matted grass and mud puddles. A little ball of anger began to form in my belly?. WE LOVE SNOW! But this Mama also loves consistency and structure. Either come and stay and bring Joy to all, or go away and we will give it another go next year. Quit with all the teasing.
Fast forward a few more days. Getting ready for my middle Wild's ski school to commence. And the night before we got SNOW! Wonderful glorious snow! And of course the mountain got several inches of fresh powder, which made it all the better.
I have no idea what to except for the remainder of winter. Last April we had a huge blizzard and the plows couldn't keep up with the snowfall. Five years ago, it snowed the last week of May on my oldest Wild's 2nd birthday….(we had gotten her a kiddie pool?). So who knows what Old Man Winter/Spring has in store for us??‍♀️?
But as for today, we have snow on the ground, big sister in school, and my two little Wilds wanting a treat. Enter…The Best Ever Snow Cream! ?
It began with my middle Wild eating a small glacier.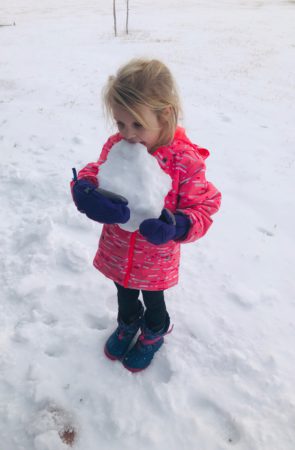 Then we scooped up the top layer of snow and filled a bowl! As they were eating their plain ol'snow, I felt inspired (hungry) to share one of my favorite snow-day treats from my childhood.
Gathered our ingredients (not pictured, milk).
And began the process.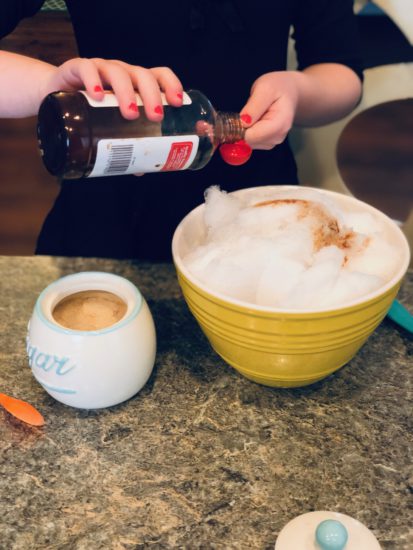 A little fighting over who gets to stir.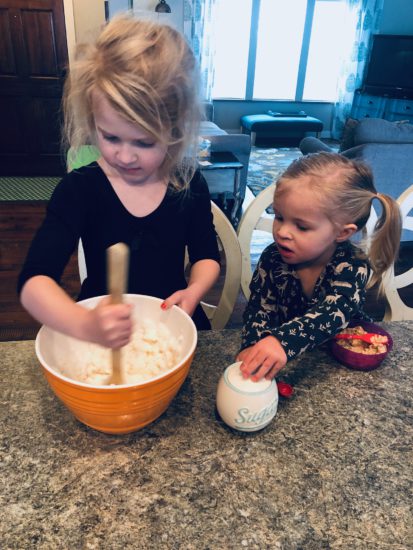 And Voila!
The Best Ever SnowCream!
Top with whipped cream and chocolate syrup, and go to town on that bad boy!
(Be sure to lick the sugar off the measuring spoon for good measure.)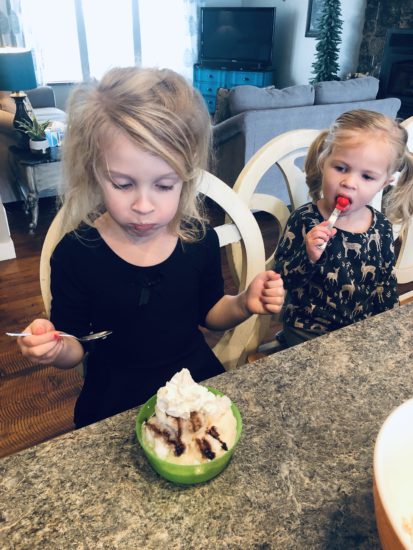 Side Note: Though I love Johnny Cash, little middle is dressed in all black not as tribute to one of my favorite singers, but because 75% of the time my children are playing "Ninjas". I'm just rolling with it, but we may have some special forces heroes in our future!
Hope you enjoy and eat it fast enough that you don't end up with sweet water. Though, that ain't half bad. But people judge a grown woman slurping up melted snow cream. It's just the way it is?.
Snow Cream Ingredients:
6-8 cups of snow (clean?)
1/2 cup of sugar
2 tsp of vanilla (we use imitation because we are poor)
1- 1 1/2 cups of milk
Whipped cream (optional topping)
Chocolate syrup (optional topping)
Combine first 4 ingredients and stir until smooth and icecream-y. Top with whatever sounds good, and eat up!