Anytime we have people over for dinner, I usually find myself making the same dishes. That is because they are easy and delicious. One of my favorite dishes, and always a crowd pleaser, in my Easy Apply Cobbler. Well, it's not my recipe. I actually got it from my mom, who probably got it from her mom, and has been making since I was a kid. But for this post and as far as my guests know, it's my dish.
I am originally from the South, and Southern women pride themselves on making everything from scratch. From hand-mixed buttermilk biscuits topped with homemade jam, to Slow-churned ice cream doused in homemade caramel. There is really something to be said about the time put into making everything from scratch. And often, it really does make a dish taste better.
However, I have always been of the school of thought; "Work Smart, Not Hard." And this particular dish could not be made any better than it already is. Though, I know most people assume I peeled the apples myself and cooked them down into the perfect cobbler filling, because that's what's expected since I am a Southern transplant to Montana.
And I kind of hope they don't ask me for the recipe. Not because I am one of those obnoxious covert recipe hoarders, but because I don't mind them thinking I spent a 1/2 the day cooking this awesome dish, because I was so excited they were joining us for supper. Never fails, they always ask. Then they are surprised at how easy it is to make considering how great it taste.
So, without further ado, here is "My" Easy Apple Cobbler Recipe
Easy Apple Cobbler

Ingredients:

1 Cup Bisquick

1 Cup Milk

1 Cup Sugar

1 Stick of Butter (melted)

1 Can of Apple Pie Filling (can use any flavor pie filling, I also like cherry and blueberry)
Directions:
Preheat overs to Whisk together Bisquick, sugar, and milk in a bowl. Melt a stick of butter and pour in an 8X8 baking dish (Double recipe if using 9×13). Pour Bisquick mixture into pan over butter.
Apple And Blueberry 
Evenly spoon in the can of apple pie filling on top. Cook for 45min or until brown on top. Let cool for several minutes, because this dish really holds its heat. Serve with a big scoop of vanilla ice cream, and "Viola!"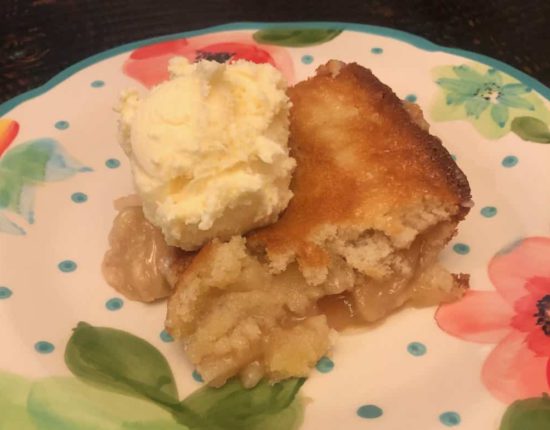 You win the praise and accolades befitting a fabulous cook….until they ask for the recipe and find out it took you 5 minutes to put together.