Mmm-mmmm this Keto Low Carb Spinach-Artichoke Chicken Casserole is absolutely amazing! Super long name, super delicious dish! I am not much of a vegetable eater, but throw in some cream cheese and I'm all over it.
I won't lie, I'm starting to get tired of beef, bacon, and eggs. Week 4 of Keto and I've had my fill. Which is really saying something because I once told my child it was a sin to waste bacon. Im not saying I'm over it, but it was time to switch it up. Truth be told, I'm still missing my pasta. Sure people will tell you that your cravings will go away, but if you deign to have a (weekly) cheat meal you will never conquer those cravings.
So, Wednesday I was craving some creamy delicious pasta, when I stumbled across a spinach artichoke chicken casserole on Pinterest. It sounded so good, and I realized it was the creamy sauce that I was really craving, not the pasta. So alas I gathered the ingredients and then adjusted the recipe to suit my fancy.
The end result was absolute perfection. Not, "It's good for a 'healthy' meal." No, like it is actually pretty stinkin' awesome! Even my kids (one of my kids) enjoyed it (to be fair the other two are somehow currently surviving on string cheese and bran muffins. That's right, I made healthy bran muffins using apple sauce?.)
Since you are probably not reading this anyways and just scrolling to get to the recipe, I'll stop here.
Dice chicken and layer in bottom of pan. Thaw and ring out spinach. Chop artichoke hearts.
Mix spinach and artichokes with remaining ingredients (save cup of cheese) and spread over chicken. Top with final cup of cheese and bake!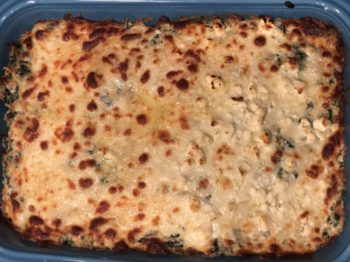 After baking, broil for additional 3-5 min until bubbly and browned.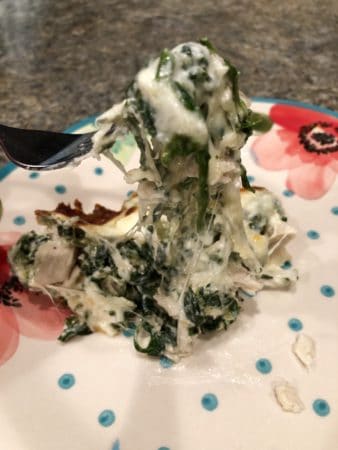 Sprinkle with grated (powdered) Parmesan and Enjoy!
Seriously, how cute are these Pioneer Woman plates! They are available here on Amazon.
Keto Low Carb Spinach-Artichoke Chicken Casserole
Ingredients :
2.5-3lb bag of chicken (I started with a 3lb bag of chicken, but always end up cutting off a lot bc I am weird about chicken bits.??‍♀️)
5 oz mayo (full fat)
8oz block of cream cheese
10 oz bag of frozen spinach (thawed and liquid squeezed out)
8-10oz bag of frozen artichoke HEARTS, chopped (get the hearts, they have less carbs)
3 garlic cloves or 1 1/2 tsp of minced garlic
1 cup of Parmesan (divide in 1/2)
1 cup of mozzarella (divided in 1/2)
Directions:
Cook the chicken (I boiled mine, but you can bake or throw in crockpot). Chop and place in bottom of greased baking dish. Season with salt and pepper.
In a separate bowl, mix the rest of the ingredients together, saving a half a cup of each cheese to sprinkle on top.
Spread mixture over top of chicken and top with remaining cheese.
Bake at 350 for 20-25 min. Before removing, broil for an additional 3-5 min or until the cheese begins to brown.
Serve with plenty of grated (powdered) Parmesan.
https://www.pinterest.com/wildandthree/keto-low-carb/