My journey from being the "touch of death" for plant-life, to having a life-affirming, redemptive succulent windowsill garden.
I come from a long line of farmers. Generations of men and women who lived off the land and survived off the fruits of their labor. It was not only how they fed their families, but how they made their living. I have picked corn, cotton, beans, tomatoes, cucumbers, figs, flowers, strawberries, watermelons, and pretty much every type of plant or produce that can be grown in Arkansas.
Unfortunately, I am not a genetic carrier of the family green thumb. I don't know ?…maybe I over-water LOVE too much. Maybe it's because I neglect encourage independence amongst vegetation in my charge. Regardless, I am the Grim Reaper of household plants.
The first time I visited my husband's (then boyfriend's) family in Arizona, I was so excited to see a real-life cactus! Like the real "cactuses" that stand like people with their arms bent ?(I know it's "cacti," but on the aforementioned visit, I was corrected so many times ? that I now refuse to comply.)
To mark my first trip to Arizona, I wanted to bring home some little "cactuses." You know? To make my Texas-born/Arizona transplant man feel at home in the Natural State when he came over. So I went to the Phoenix Walmart and bought five adorable little plants. I put them in my handbag, so I could keep a close eye on them, and flew back to Arkansas, excited to get them repotted and nestled into their new home.
They were small cactuses with colorful flowers and cactus tops. They seemed so exotic until I went to the Walmart in Arkansas looking for a pot and potting soil, and saw they were selling the same cactuses (cacti?). I pressed on; got my pot, got my special sandy cactus dirt, went home, and planted my "exotic" Arizona souvenirs. I already had a reputation for killing innocent plants, so my friends joked about how a cactus was the perfect plant for me.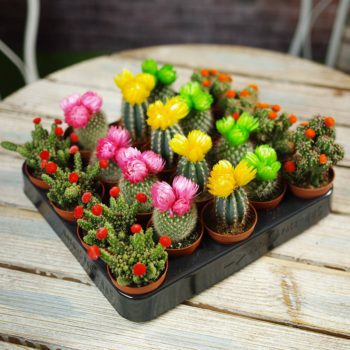 Within two weeks the little guys were getting black spots and leaning over in defeat. Some of the spots turned into holes, and there may or may not have been an odor?. I was over it!
I trashed them angrily.
---
Present Day
12 years, 3 kids, 6 moves, multiple plant deaths resulting in an abandoned will to garden, and 2 months into "2nd winter", had me longing for signs of green life. It was March-ish, and we still had 3 feet of snow on the ground. Don't get me wrong; I Love the snow. But this year it just wouldn't stop, and I was beginning to feel the effects of the inversion that weighs on the valley where we live.
So, I did extensive research asked my FB friends for suggestions on plants that might be able to withstand my death touch and decided to try succulents. I looked everywhere for cute pots to plant them in, but everything was either too pricey or too ugly. So I decided to look for cute bowls and turn them into planters.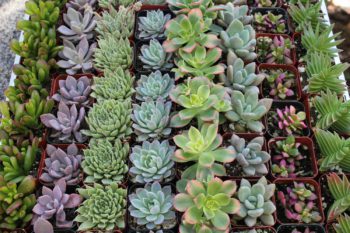 Enter Pioneer Woman ramekins and footed-bowls. I mean, look at how stinking cute these are!
When it came time to buy the plants, I was coming up empty. Living in Montana means Spring doesn't arrive until June. So, when I went to the garden centers at the big box stores, I couldn't find "summer" plants, and I didn't need a poinsettia.
A little annoyed, I went on Amazon to see if they sold live plants. And of course…they do. After reading several reviews, I ordered a succulent combo pack. I waited an eternity of 2 days before they arrived. But sadly, one of the little guys was already on his way out. Had I been a better woman, I might have nursed it back to life, but even healthy plants struggle in my presence. So I chatted with customer service to explain my situation, and they sent me a replacement combo; all of which arrived healthy and well.
And so began my Succulent Windowsill Garden.
I enlisted my husband to drill holes (2 in each ramekin & 3 in the footer-bowl), in the bottom of my PW dinnerware turned planters. I was worried it would crack them, but all was well. He used a special drill bit, added water to where he was drilling and they turned out perfect.
I poured in my special dirt , planted my little succulents, and topped with small white rocks. They turned out super cute.
Eight months later and they are still alive and well. I feel I have done my family proud. I'm officially a farmer. The family legacy lives on.
You are welcome, ancestors. It was my honor.
---
2019 Update:
I'd like to introduce you to my newest succulent: A trailing variegated string of hearts. I repotted her in the gorgeous hanging planter, and I cannot wait for her to begin to trail.
---