I'm sitting here, and it is cold and rainy outside. Honestly, I don't mind the cold or the rain, but I cannot believe summer is really over and I have to say goodbye to Summer hiking in Glacier National Park. In Montana, we get between 4-6weeks (if we are lucky), of actual summer weather. Usually beginning somewhere around the end of June and if we are lucky lasting through the first week of August before fire season begins.
In the South fire season was the time of year when it was finally cold enough to use our decorative fireplaces for the few of weeks of cold weather. Here fire season refers to "wildfire season" and the smoke apocalypse that descends on the valley forcing everyone inside due to hazardous breathing conditions. Fire season ends when Fall arrives and with it, cooler weather and sweet merciful rain.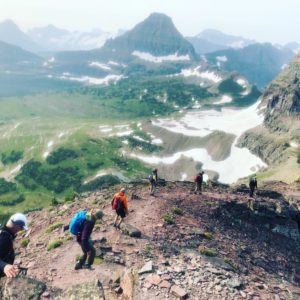 Montana is great in the winter, and for those who enjoy winter sports, this is the place to be. But I grew up in Arkansas, where the winter sport is duck hunting, and we also got very little snow, so skiing was not an option. Sure there were some families blessed with the funds to enjoy family ski trips to other states, but we did not fall into this category. All that to say, I never learned to ski or snowboard, so winter in Montana is my slow season. But in the Summer, and that little hiccup period of time between the end of fire season and snowfall, I take every opportunity I can to get outside and hike.
We are lucky to live just outside of Glacier National Park, so I have some pretty amazing trails to explore. I try and take my girls whenever I can because I want to share what I love with them and feed their natural sense of adventure. My babies were all born in Montana and love winter and are all learning to ski.
Their daddy is the one who takes them skiing and builds the massive snow ramps in the backyard, igloos, and tunnels in the snow. I help with snowmen and "snow-cream" (funny fact: snow-cream is apparently a Southern thing, Anytime I have mentioned it to the native Montanans they look at me like I'm a crazy person. So you know what Montana? "Y'all are welcome!" Enjoy some Southern snow-cream. I'll post a recipe as soon as we get some snow in the valley). Now back to me lamenting the end of summer.
---
The Joy of Hiking
This summer I hiked almost 200 miles in Glacier. And for some of those treks, I was able to take my babies. I usually hike 10-15 miles on hiking days, and most of the time I go with one or two of my girlfriends.
I'm a stay-at-home-mom and homeschool, and I love my husband and kids, but trust me when I say, that my hiking days with just my girlfriends makes me a better wife, mother, and human. But I also love the shorter hikes with less elevation gain when I can get my girls on the trail and away for all things electronic.
I love hearing their stories, and answering their questions, and watching their excitement at the beautify that engulfs us. I even love when we are nearing the end of the hike, and they are exhausted and quite and sometimes whining that the hike will never end (I know the feeling, and they come by it honest.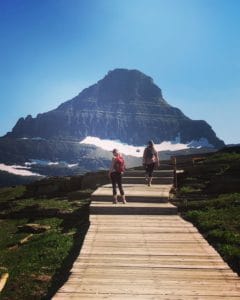 My hiking partners and I always end the last couple of miles complaining about how much our feet hurt and how we are never hiking again…..until the next day when we are planning our next hike.) I love the opportunity to remind my girls that the same God who made the mountains and the waterfalls we climb and admire with such awe and wonder is the same God who made them and made them for a PURPOSE!
If that doesn't incite a sense of power and worth, I don't know what could.
And the privilege of sharing the trail with my greatest blessings, basking in the magnificence of God's creating brings me so much light and JOY, that the long Montana winters don't seem so daunting.