I am patting myself on the back for this little concoction: DIY Orange-Vanilla Sugar Scrub. It's smells amazing!
Here we are nearing the end of January. There is snow on the ground, it's extra cold and windy outside, and my kids are already over it.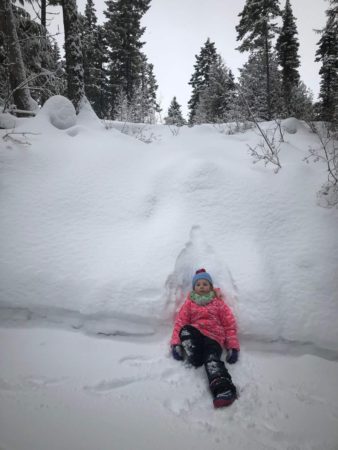 But inside we are living like we are on a beach vacation.
We went swimming today (indoor pool), had a picnic in the living room, and as of recently are enjoying the calming affects of our new palm tree.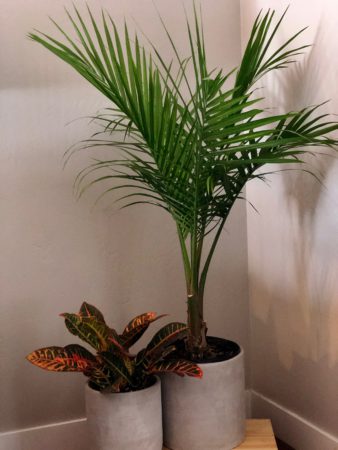 (For the record, I have now had this palm for 2 full weeks and she is still kicking!)
My girls love it, and if I am able to keep her alive we may get a 2nd Palm for their room . They play "beach" and I'd prefer them to set up camp in their room rather than the living room.

Since we were feeling beach-y today I decided to diffuse orange citrus to bring things full circle. At some point with all our chilling and mellow moods, I decided this mama could use a little home spa time.
Since I'm not a 16 year old girl, I no longer have a collection of Bath and Body Works spa goodies. I used loved their scrubs, and decided that a citrus scrub would be perfect for my middle of winter, Montana, in-home beach, spa day. ??‍♀️
Super Easy DIY Orange-Vanilla Sugar Scrub!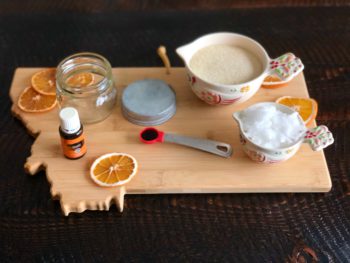 Only 4 ingredients! One batch filled my little jar, so if you want to make multiple sugar scrubs for gifts or a rainy day, adjust the recipe accordingly.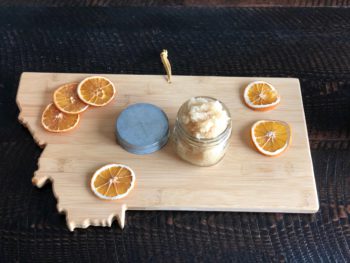 If you are giving as gifts, tie some jute and ribbon around the mouth and bask in the praise.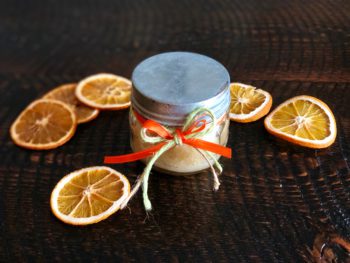 DIY Orange-Vanilla Sugar Scrub

And how cute are these chicken measuring cups. I had forgotten I even had them, till the appeared one day when I was searching for my ramekins.


ORANGE-VANILLA SUGAR SCRUB
Ingredients:
1/2 cup of sugar (I use the raw)
1/4 cup coconut oil (regular or fractionated)
1 tsp vanilla
8-10 drops Orange Essential Oil
Note: If you use regular coconut oil and live in colder climates, the sugar scrub may need to be heated before using.
Directions:
Melt coconut oil and mix all ingredients together. It's just that easy! Put in jar(s), and enjoy!
️